California Hwy. 1 Road Trip
Posted by Mona Stephenson
Views

4972


One of the most relaxing, breathtaking vacations I've taken is a road trip along Highway 1. While waves crash along rugged coastline on one side of the road and wildflowers and pampas grass outline mountains on the other, inner peace replaces everything you have left behind (you know the stresses; kids, parking tickets-when you parked in a red and didn't know it was red…whatever; they've got nothin' on you once your tires hit this road).
San Diego to San Francisco: From 5 Star Glamping to 5 Star Resorts
First destination on the Hwy. 1: a visit to the quaint, historic Danish town of Solvang. Just 3 hours north of Los Angeles, this charming town transports you to Scandinavia through its unique architecture and traditional bakeries and restaurants. Whether you're having crepes or wine tasting, you won't regret stopping here. Wine enthusiasts may recall Solvang's beautiful nearby scenery from the movie Sideways.
After checking strawberry crepes off the list, we set our sights and GPS for Morro Bay. Morro Rock is spectacular to see in person, and the seals hanging out on the harbor rocks were so close we could touch them. At this moment I was wishing I had a few of those kids I'd left behind with me…haha, not really.
A trip along the California coast wouldn't be complete without a visit to the world famous Hearst Castle. Relics and treasures from all over the world are built into the structure and décor of this National and California Historic Landmark. William Randolph Hearst, a publishing and media tycoon wasn't just all work and no play, Hollywood elite and political dignitaries were frequent guests at the estate. You can watch whimsical home black-and-white movies featuring Charlie Chaplin and other celebrities playing on the property in the Castle's original and skillfully preserved movie theater.
BIG SUR
Big Sur is just north of Hearst Castle, however, after a massive landslide buried a portion of Highway 1 in May, 2017, the shortest way to access the coast is by cutting across the treacherous, curvy, no-cell service Nacimiento-Fergusson road. This road is not for sissies. In fact, before you go, be sure to read every terrifying online review of the road, multiply your fears by 100, update your living will, then go for it. I mean, if you expect the worst, it can only go up from there, right? We found the hour long detour road beautiful, despite hairpin turns without guardrails, and again, NO cell service. Even so, we'd do it again in a heartbeat. (Well, only if Hwy 1 was still closed, of course.)
YURTS AT TREEBONES RESORT
Our destination was Treebones Resort in Big Sur. Now, in all honesty, when I booked our yurt at Treebones Resort, I had regrets immediately… because it was sort of really expensive. I knew it was going to either be the best travel decision I'd ever made, or the worst. And, even though the majority of TripAdvisor reviewers love it, I just couldn't see how glamping could cost so much. Well, I'm happy to say, the moment we arrived on the property, before we even set eyes on our yurt, I knew I'd made the right decision. It was peaceful…just us and nature, from the mountains…to the prairies…to the oceans….God bless America!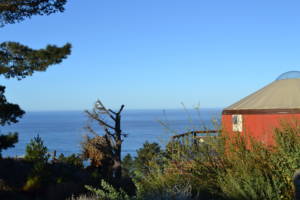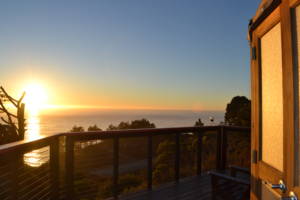 Ocean View Yurts
The interior of the yurt was even better than I imagined; rustic, clean and totally groovy! We picked a winner.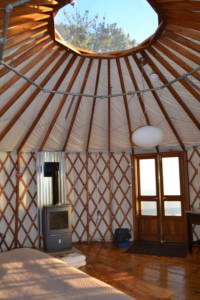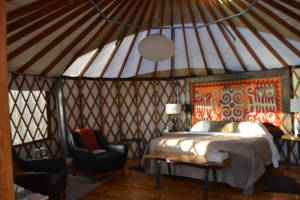 Interior of the Ocean View Yurt, the skylight allows for stargazing at night
Two deer greeted us right behind our yurt as they drank water from the pond, where friendly koi invite you to pet them.
The sushi is world renown, with many people saying it is the best sushi they've ever had, so we had to check it out. The presentation by the chef was a beautiful display of art meets science, prepared with fresh ingredients picked on property from the organic "Chef's Garden." The catch is you have to get there at 4:30 pm to put your name on the first come first serve seating list; it's so popular that the wait list usually fills up entirely within minutes of opening. (Check seasonal hours; closed Monday and Tuesday). My husband, Todd, loved the sushi, I loved the view, it was a win win.
HIKING
There are several hikes nearby, we particularly enjoyed the cool, shady path leading to the waterfall at Limekiln State Park.
Another great hike is The McWay Falls trail which is short and easy, with an incredible waterfall at the end. I've heard of hiking up to a waterfall in the mountains, but trekking to a coastal cliff to see an 80' waterfall cascading over the edge? Wow.
Each night, following beautiful hikes, walks and whale spotting, we'd return to Treebones Resort for a spectacular sunset dinner.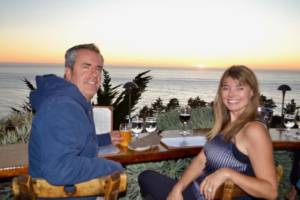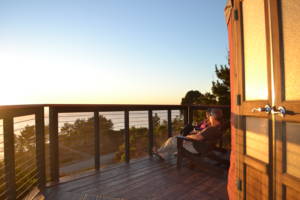 Dinner with a view
After 2 magical days and nights (thanks to the 2 night minimum reservation policy; always a love-hate thing there ), we said goodbye to the serenity and stillness at Treebones Resort, and headed north on Hwy. 1.

 TIP: Save $300 with the Chase Saphire Reserve Credit Card annual travel credit
(Rates for the Ocean View Yurt~King: $360/night)
A quick sidenote on getting gas…Gorda is the last place to buy gas for many miles (the next nearest gas station is 40 miles north and 12 miles south, the latter is currently closed from the mudslide.) At $7/gallon you'll want to plan accordingly.
Sand Dollar Beach is a fun stop, with 99 stairs leading to a long stretch of sandy beach, one of the few accessible in Big Sur. We didn't see any sand dollars, but the rock formations were very cool.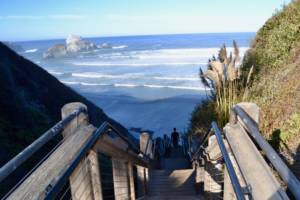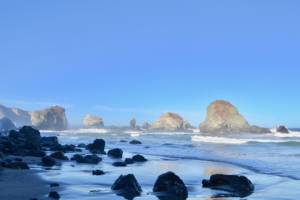 Sand Dollar Beach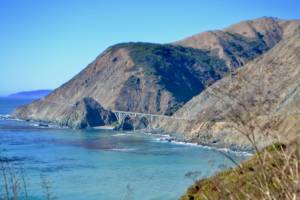 Big Creek Bridge and Bixby Bridge, Big Sur Coast
MONTEREY
The scenic drive continues north past Carmel to Pebble Beach via the scenic 17-Mile drive on the Monterey Peninsula. If you're debating whether the $10 entrance fee for the 17-Mile Drive is worth it…YES! Travel + Leisure calls it one of America's most scenic drives. But, be sure to follow the map on the brochure, otherwise if you have a husband like mine who decides to wing it, you may find yourself meandering through tree lined residential streets wondering what the big deal is.
After all that driving, it's a great time to stop and stroll down the Fisherman's  Wharf in Monterey. While a variety of freshly prepared seafood is abundant, all the restaurants compete with their twist on clam chowder, with everything from bacon to jalapeños mixed in. The Clam Chowder is delicious, but they had my attention with "all day happy hour". The restaurants even throw in free appetizers to get your business.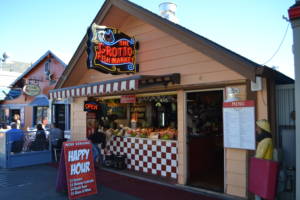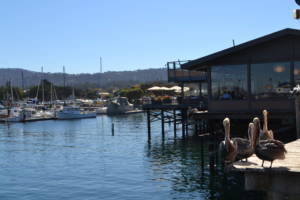 Fisherman's Wharf, Monterey
North of Monterey is Santa Cruz, and home of the famous Santa Cruz Beach Boardwalk. Many childhood memories were made where roller coasters and cotton candy meet the surf, and the 1970's jingle still rings in my head. If you decide to stop in for a ride on the Giant Dipper, be sure to check ahead for operating hours and days in the off season to avoid disappointment.
HALF MOON BAY
Finally, the, moment we'd been waiting for, our arrival at Half Moon Bay…the perfect ending to a perfect road trip. And yet it felt like just the beginning. Upon checking in to the Ritz-Carlton at Half Moon Bay, we were instantly renewed and then delirious when we were upgraded to an OCEAN VIEW. I had dreamed of that ocean view for months, but I didn't reserve it because I was hoping my Gold status with the Ritz Credit Card would score us an upgrade. And of course, the view was even better than I'd imagined.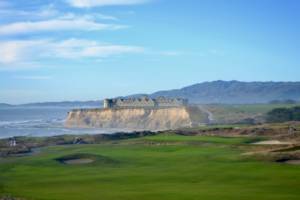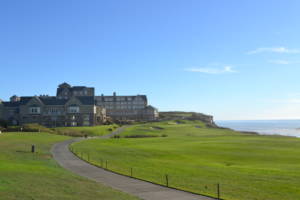 The Ritz-Carlton, Half Moon Bay
We took a walk along the beach to Mavericks, the world famous surfing spot, where "Chasing Mavericks" was filmed. The violent waves and and currents are host to international competitions for big wave surfers, where waves can reach 60 feet!
Downtown Half Moon Bay has the quaint Main Street, where you can find good food, shopping and wine tasting on pedestrian friendly wide sidewalks.
Back at the Ritz, we went on a bike ride with complimentary bikes from the resort with spectacular views.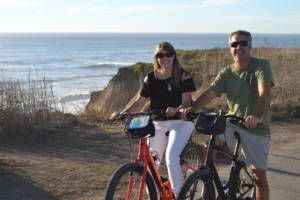 The evenings are magical at Half Moon Bay, with the sunsets, the fog, and best of all the Scottish bagpiper at dusk. That wonderful Scotsman even played Amazing Grace, it doesn't get better than that.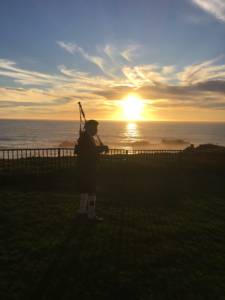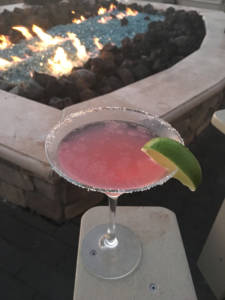 TIP: Save $2,000 using the Ritz-Carlton Rewards Credit Card with 2 complimentary nights.
(Weekend rates at the Ritz-Carlton, Half Moon Bay start at $665 in October)
On Their Dime would love to help you create an itinerary that makes your dreams come true using points, miles and negotiated rates with preferred partners. So, how are you gonna get there? On their dime.