This post contains affiliate links, which means if you make a purchase though one of these links I may earn a commission as an Amazon Associate (at no extra cost to you).
19 Travel Essentials
I just LOVE packing. Said no one ever, right? Well, I really procrastinate, more than the average traveler. I mean, it's so bad that it's the stuff legends are made of, like the time I packed 10 minutes before leaving for a flight to New York in winter, arriving with only underwear in my suitcase. In all fairness, it was time to update my wardrobe, and what better place to do it than New York city? Except that it turned out to be super expensive. I have since changed my ways, and, in fact I now have some travel essentials which I never take out of my suitcase. That's right, my suitcase is dummy-proof thanks to the items below.
LUGGAGE
The Smart Carry-On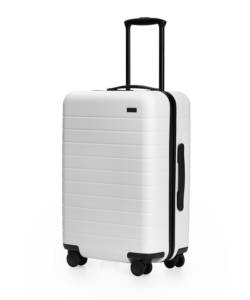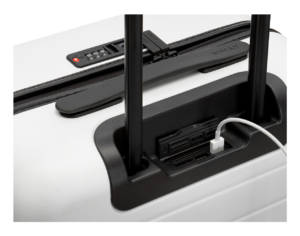 I love the Away Bigger Carry-On suitcase. My motto is to find the biggest carry-on that will fit within the airline sizer bins, and pack it to its limits. This modern marvel had me at the built in phone charger, which is easily removed within seconds by pressing a button if you have to check your bag. Also, it had me at the compression feature which created space to fit 7 winter outfits, 2 pairs of boots and toiletries. Wow. You can save $20 on Away luggage; just click here to send us an email requesting the exclusive discount and link for friends and family.
The 'If You Must Check' Suitcase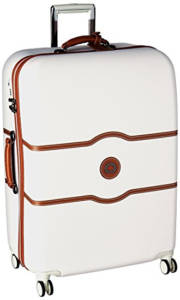 Delsey, Paris Chatelet Luggage
This suitcase is to die for gorgeous. But let's not be so shallow, it's more than just a pretty face. The Delsey, Paris Chatelet comes in 24″and 28″ sizes for even the most ambitious overpacker. The Japanese Hinomoto wheels ensure a quiet, smooth ride, while the polycarbonate construction withstands extreme temperature with impact resistance. For a beautiful carry-on size, consider the 21″.
The Bag Bungee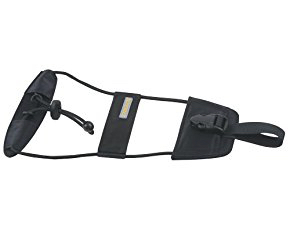 Never leave home without it. Ever. The Bag Bungee is a lifesaver, as in it will hold your personal bag, your winter coat, your rainboots that wouldn't fit in your carry-on and anything else you double-dog dare it to. You'll never set anything down again and risk losing it, the Bag Bungee has your back.
The Luggage Scale
Avoid learning this lesson the hard way; weigh your suitcase before the ticket agent does and save yourself a lot of money. I recently paid $65 thanks to being two pounds over when I didn't use my luggage scale. Simply hook the luggage scale on the handle of your suitcase, pick it up, and the digital scale instantly reads the weight of your luggage. Priced under $10, this is a no brainer.
The Passport Wallet with RFID Block
Passport Wallet with RFID Block
Protect your personal information from electronic pickpockets with this RFID blocking wallet. I love that it keeps me organized by keeping my passport, credit cards and money all in one compact place.
The Compact, Windproof Travel Umbrella
It's cute, right? And so much more. Don't get caught in a rainstorm with an inverted umbrella, the double canopy construction of this travel umbrella will keep you dry for only 11″ of precious space in your purse or backpack.
GADGETS
The Portable Charger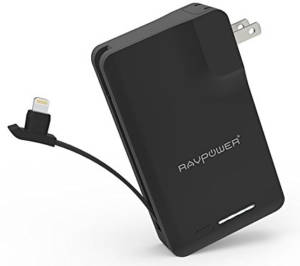 Maybe it's just me, but it seems like my iPhone battery lasts maybe 4 hours when I'm actually using my phone. This lightweight power bank (6 oz.) will charge your iPhone a little over 3 times before needing its own charge. Most importantly, THE CHARGING CORD AND PLUG ARE BUILT IN! That means you can't lose the block or the cable when you're on the go, rendering your charger useless. The weight and price increase incrementally the more times you can charge before needing a recharge.
The Power Adapter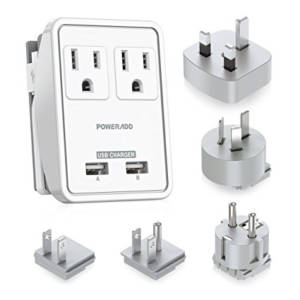 You already have jet lag, the last thing you want to do is take on a learning curve with your international power adapter. This easy to use worldwide power adapter kit has 2 outlets and 2 USB ports which makes it the ultimate charging station.
The World's Smallest Selfie Stick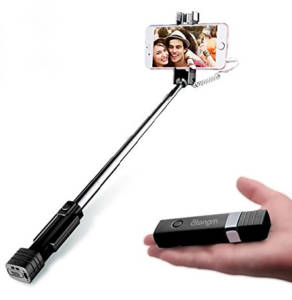 While selfie sticks may getting a bad rap in some cities, they sure do come in handy when no one else is around to take your group picture (hence, I call it the Groupie Stick). It's so lightweight and compact, you'll hardly notice this selfie stick in your purse or backpack, but it will save the day when you almost miss getting that iconic picture.
The Laptop Plastic Case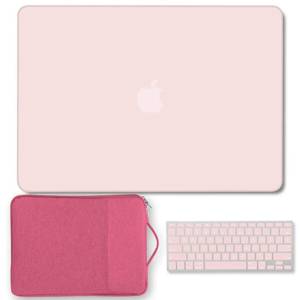 This plastic shell will protect your laptop from scratches while reducing bulk in your carry on. Available in over 30 colors!
The Camera Card Reader

Are you bringing your fancy camera on your next trip, you know, the one that takes killer pictures even at night? Well, none of your friends will rest until you send them your awesome pictures, whether they admit it or not. So, make everyone's life easier by allowing them to download the pictures to their iPhone instantly with this super easy to use Apple Card Reader.
TOILETRIES
The TSA Approved Toiletry Bag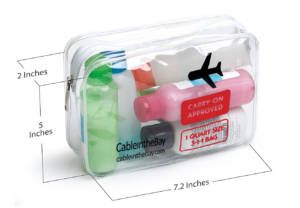 This one sounds obvious, but it may be the most important item next to your carry-on. Not all TSA approved bags are created equal, and I repeat my motto that I like to find the largest bag that will still pass through TSA, especially in international airports, with flying colors. This TSA approved toiletry bag allows me to fit a whopping 17 products with a two week+ supply.
The Hanging Personal Toiletry Bag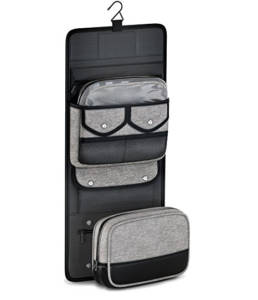 For those who thrive on organization when traveling, this hanging toiletry bag is a dream. Put your larger TSA approved toiletry bag in the upper compartment, and all other non-liquid items in the compartment bag below. It does comes with its own TSA approved bag, it just doesn't hold as much as the larger TSA bag shown above. When packing, I lay the bag out flat to maximize space.
The Leakproof Travel Bottles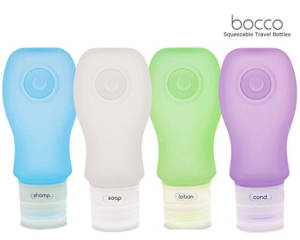 These leak-proof, silicone TSA approved containers are perfect for longer trips, providing four 3 oz. bottles. They have thought of everything with the adjustable labels built into the lid.
For smaller quantities of product, use these leakproof silicone jars. Smaller jars that hold less means you can bring more stuff!
The Always Smell Nice Spray
This spray keeps everything fresh. Just the way we like it. Be sure to get the 2 oz. bottle (not the 4 oz.) if packing it in your carry-on.
The No-Stain Solution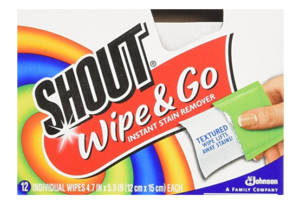 Shout Stain Remover Travel Wipes
Tried and tested, these stain remover wipes get the stains out. Lightweight and compact, you won't have to wait until you get home to salvage your favorite clothes.
Ear Plugs and Sleep Mask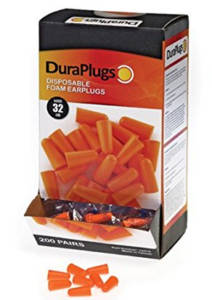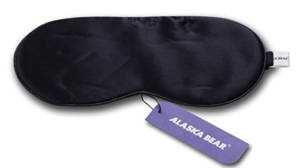 Wondering if your BFF snores as you plan for your upcoming girls weekend getaway? Or if you'll get any sleep on that 12 hour flight to Europe? Have no fear, these earplugs, with a noise reduction rating of 32db, along with the super soft sleep mask will help you get the rest you need.
The Curling/Flat Iron Heat Resistant Travel Case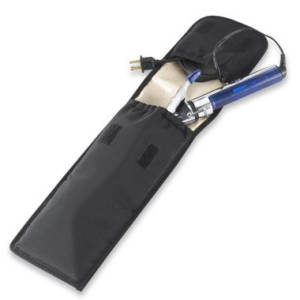 Heat Resistant Curling/Flat Iron Case
Where have you been all my life? To think my plan A has been wrapping my iron in my clothing, crossing my fingers hoping it doesn't touch anything melty, as I carefully zip my luggage…this is no way to live, or travel. And thankfully we don't have to with this heat resistant case for curling and flat irons.
SEASONAL TRAVEL
Winter in Europe ~ 6 Essentials
For moderate European climates, with daytime averages in the 40's during the day, and nighttime averages in the 30's, packing these essentials will help you stay warm, dry and comfortable.
1. The Walking Boot
These waterproof boots are made for walking. Period. They will keep you dry in the rain and give you traction on wet, cobblestone streets, while resisting salt stains in the snow. Each has an arch support system footbed with either die-cut memory or gel insoles, providing hours of comfortable walking. And we never sacrifice fashion for comfort, ever.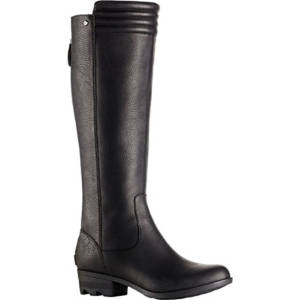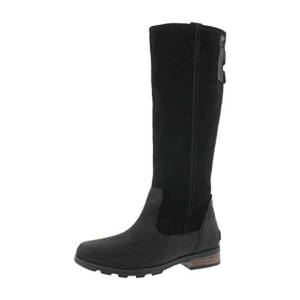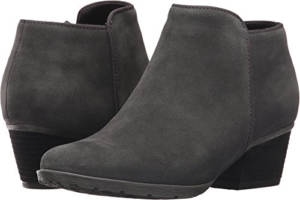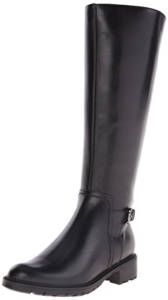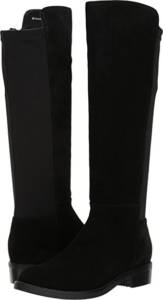 2. The Warm, Waterproof Winter Coat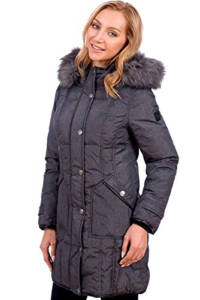 Canadian brand RedX knows how to keep you warm and dry in winter. This Parka Winter Coat has a temperature rating of -10° Fahrenheit, and is water and wind resistant with a detachable hood.
3. The Rain Coat
Nothing can ruin a day of sightseeing like getting drenched in a rainstorm without the proper gear. This hooded rain coat is so cute on and will help keep you dry while enjoying the sights.
4. The Touch Gloves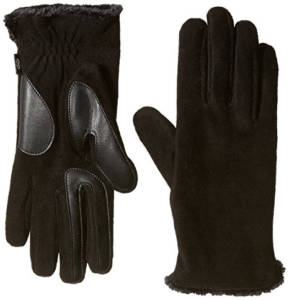 A great pair of gloves can make all the difference in the world. These Isotoner fleece gloves are so soft and warm, and thanks to the smart phone touch technology in the fingertips you'll never risk losing a glove from removing one to use your phone.
5. The Base Layer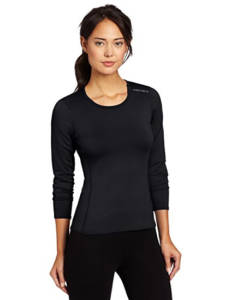 It sounds extreme, but a good base layer can save your bootie from the cold. Hot Chillys are the industry leader for moisture transferring fabric in a blend of polyester and spandex providing warmth and comfort. I never leave home without these when traveling in the cold.

For something lighter, this 32 Degrees Heat medium weight base layer will keep you warm, yet it's so thin you won't even know it's there.
6. The Book of History and Culture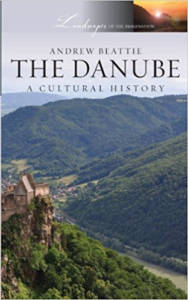 The Danube, A Cultural History
No matter where your travels take you, it's a great idea to pick up a book on the region to learn a little about its historical and cultural significance. This is time well spent in preparation, as everything you see and learn will come to life in a more memorable and meaningful way when you have the background.